Caveman Studios, Kingston
Visiting a Kingston recording studio, the first thought will be: how can such big music be made and contained in such a tiny space? Like most others, Caveman's new studio is a small and unpretentious affair. There's a room you enter from the street where musicians, aspiring young artists and their friends sit around passing the time or waiting for the big break. Then there's the studio itself, with room for the mixing board and a few seats. The recording booth is visible through a large window set into the wall, big enough to hold a couple of vocalists and a trio of live musicians.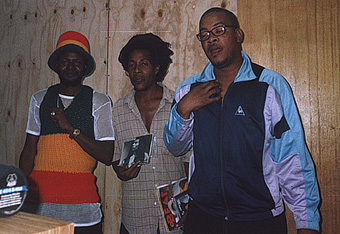 (l to r) Caveman, DJs Josiah and Daddy Rexxus in Caveman's studio.
Caveman is been in his present location for just over a month. Located uptown at 11 Mona Road, not far from the University of the West Indies, Caveman's studio is far from those downtown streets immortalised in decades of reggae music. The uptown location is also more than ever typical of Kingston studios, as the unremitting violence downtown forces the music business, like much of Kingston's commercial life, to relocate. Says Caveman 'Studios are moving uptown because of the violence. People who want to do business don't want to go where violence is. You have to put your business somewhere neutral, where people from all walks of life can go.'
Although even uptown you should always expect the unexpected. Farmer Roots, one of the musicians in the studio today, tells how a few months ago, when leaving Caveman's previous studio in the Swallowfield area near the National Stadium, he was caught in the crossfire as a gun battle erupted and shot in the arm. He is only slowly regaining the ability to play guitar.
Well respected within the reggae business, Caveman's studio is not yet well known to the wider record buying public. This is because his principal business is the 'special'. Caveman holds the rhythms, both his own and timeless classics, over which singers and DJs namecheck sound systems and radio DJs, do jingles for radio shows, anything the customer wants. 'People come here from all over' explains Caveman. 'From Germany, Switzerland, Japan. From the UK we've had Daddy Ernie of Choice FM, David Rodigan, Ranking Miss P, Culture Productions. We charge $500 Jamaican (about £9 sterling) for one tune on a cassette or DAT or minidisc or whatever you want. The artist will fix his own rate on top of that.'
Caveman also operates his own sound system, Caveman Sound. 'The year before last we played London, England at David Rodigan's club, Subterrania. There was a team of us, Caveman Sound System and DJs Anthony B and Determine.' Caveman Sound has recently played the big "St Mary We Come From' show headlined by Capleton. Later this month the sound will tour Germany, Italy and France with artists Half Pint and Anthony B.
Caveman identifies both studio and sound as cultural enterprises, citing Luciano, Sizzla and Anthony B as the kind of cultural performers he currently most admires in Jamaica. Sizzla, Capleton, Yammie Bolo, Luciano and Bushman are all artists who have recorded at Caveman's studio, as have reggae legends such as Bunny Wailer and Leroy Sibbles. Nevertheless Caveman is at pains to explain that in Jamaica there is no rigid opposition between dancehall and cultural music: 'Dancehall is a music danced up in the halls. So to me a Bob Marley is still dancehall music but it is positive lyrics and good rhythms that can still be played in the dancehall and people can dance and relate to it. That is what we are about.'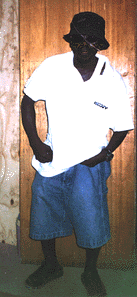 Caveman was born in Rollington Town, Kingston in 1963. 'I made a few records as a DJ back in the 1980s for Blue Mountain Records. 'But I put my own career on hold for a bit just to help some of these young artists coming through now so they can see a better way out. My cousin is Lee Scratch Perry. My father was Stainton Moore. He operated Perry's shop at Charles Street and Luke Lane. He was with Perry at Black Ark. I was a little kid then. Lee Perry is a very big influence on me. Listening to Lee Perry and Bob Marley from that time, we want to stick to that trend where we play the real music. The artists associated with him in those days, like Bunny Wailer, the Mighty Diamonds and Leroy Sibbles come around here to record now. We're looking for rich sounds. We build our rhythms with live bass and live drums. We don't deal with the computer vibes because it don't give that real authentic sound.'
Of Tiger, who was nearly killed in a motorcycle accident in January 1994, Caveman says 'Tiger and me go way back, to about '86. Tiger is recuperating. His speech was blurry but he's speaking clearer now. It's a great thing for Tiger to be around this studio. A lot of artists come here who he was associated with on the circuit. He's still doing therapy on his speech with a private doctor but he's not far from recording. He'll be picking up on his career and recording some songs soon.'
Tiger in Caveman's studio
As if on cue, there's a bit of a commotion in the reception room and a loud, distinctively nasal burst of lyrics, greeted by an enormous gale of laughter from everyone outside. Someone imitating Tiger! Someone imitating him with playful accuracy and wit! But then a slight figure in shades and hat comes ambling in and it's the man himself, tiger in person.
Asked about his recovery from the motorcycle accident, Tiger declares 'I give thanks to Jah for preserving my life right now.' When I tell him that one of my favourite Tiger records is When from the early nineties, he gives an impromptu rendition of the lyrics to loud applause from everyone, showing that his voice is indeed getting back to full strength. I mention Nobody Move from the same era and again he gives it a full strength performance. Although Tiger has yet to receive any compensation for an accident that entirely the fault of the other vehicle, driven by a US Embassy driver, he seems in high spirits, full of vibes and ready to get back into the recording studio soon.
Copyright, Geoff Parker August 2001
HOME PAGE
FEATURES
REVIEWS
BULLETIN BOARD
LINKS