THE ZINC FENCE MILLENIUM COUNTDOWN
Record of 1985, selected by Peter Dalton:
UNDER ME SLENG TENG
WAYNE SMITH (JAMMY$)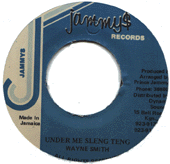 Jamaican music's different phases can't usually be traced back to any one ground-breaking 45 - just consider how many have been credited with starting reggae itself. But the one unchallenged exception is the disc that kicked-off digital reggae, or ragga. It's true that several tunes pointed in the direction of this most fundamental of shifts - the semi-computerised experiments of Paul Blake and the Blood Fire Posse of the year before, for instance, or the 'robotic' rhythms created by Sly & Robbie for their Taxi imprint in the first half of the decade. But the first fully-computerised rhythm - created on a Casio Music Box - was undoubtedly Wayne Smith's Under Me Sleng Teng.
There are a couple of conflicting stories about how the rhythm - based on the riff from Eddie Cochran's Something Else - was first found on the computerised keyboard. It might have been the discovery of Wayne Smith and another young singer, Noel Bailey - or, alternatively, the session musician Tony Asher who found it with Smith. Whichever account is nearer the truth, the rock 'n' roll rhythm on the Casio was slowed down and rebuilt by Asher at Jammy's St Lucia Road studio, and launched on an unsuspecting world at the historic sound clash between Jammy's and Black Scorpio at Waltham Park Road on February 23, 1985.
No one needs reminding of the torrent of versions that followed its appearance as a single. Jammy himself put out two album's worth at the time, and practically every producer on the island soon had his own cut. In addition, most of them were hurriedly recording near relatives to "Sleng Teng" - including Jammy's former boss, King Tubby, for the tune that launched his Firehouse label, Anthony 'Red' Rose's Tempo. A couple of years later, Jammy scored another enormous dancehall hit with Pinchers' Agony - despite the closeness of its rhythm to "Sleng Teng". And then in the next decade, he brought the outlaw Josie Wales thundering back with a rerecording of his Cowboy Style lyric - over a remix of the first digital hit. Further 1990s' versions/ variations of the rhythm - which so many commentators had dismissed as ephemeral - have included the three-way clash between Bounty Killer, Merciless and Capleton that appeared on Fat Eyes last year, as well as the Anthony Red Rose & Anthony Malvo produced Now Thing of a few months later. Look forward to as many Sleng Teng revivals as Real Rock, Full Up or Stalag 17 have enjoyed.
HOME PAGE
REVIEWS
FEATURES
BULLETIN BOARD