Roots Knotty Roots - a reggae discography 
by Michael Turner & Robert Schoenfeld. 
Published by Nighthawk Records,ISBN 0-9709663-1-6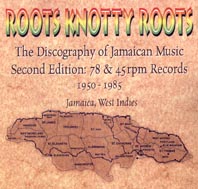 In their introduction to the second edition of their Roots Knotty Roots discography of Jamaican music, Michael Turner & Robert Schoenfeld comment in deadpan fashion "The task of documenting the early years of Jamaican music is not an easy one." Indeed anyone who attempts such a task is surely the most reckless of optimists but the authors have triumphantly succeeded, against all the odds.
Apart from the 37,000 title discography itself, covering the island's music from 1950 to 1985, Roots Knotty Roots also boasts a succinct account of the development of Jamaican music, a timeline of events from the birth of Roland Alphonso in 1931 to the murder of King Tubby in 1989, an index of Jamaican vocal groups (did you know that The Termites were Wentworth Vernal and Lloyd Parkes?) and an account of the development of the Roots Knotty Roots project which in itself stands as an introduction to the joys and exasperations of collecting Jamaican music in its original vinyl format.
The project has come a long way since the first book was published. Over 9000 titles have been added to the first edition and perhaps the most outstanding innovation is the availability of the discography as an interactive software database for Windows PC users. Computer users can search the database by such criteria as record title, artist name, JA, UK, and US record label and matrix number.
The book itself is arranged by artist's name only, so if you had a blank Jamaican 7" single with only the lyrics to gone, you were sunk. With the new searchable database however you can have recourse to the ultimate fallback for the serious collector, the matrix number which as the introduction helpfully explains is "hand-etched or die stamped by the pressing plant directly into the metal parts that are used to press the record" and then into the runoff grooves of the record itself. I tested this on the sublime rocksteady instrumental instrumental on the back of The Sensations' The Last Time on Duke Reid's Treasure Isle label. Unfortunately, while the A side label is clear, the B side instrumental is largely obliterated by what looks like termite shit. So I typed in the matrix DR 1506 and came up with the information that this wonderful piece of music is called Portrait To Don by Tommy McCook and was released in 1966.
By connecting to the new Roots Knotty Roots website, software users will be able to obtain the most current version of the database via Internet download and enter a forum for open discussion of discographic questions with reggae experts from around the world. The RKR Roots Newsletter http://www.nghthwk.com/RKR/ will support and encourage direct user interaction with the ongoing database research. Users will find articles and features, reviews, statistics, audio files, and the Roots Knotty Roots Bulletin Board for all discography related questions. Users will be able to download regular updates to the discography.
The website is very impressive indeed with a Bulletin Board, a review section, which currently features Theophilus Beckford, a Featured Profile currently featuring dedicated Top Deck and Phase One discographies, a Listening Room with a selection of currently unidentified tunes which visitors can listen to and hopefully identify and to which listeners' own mystery tunes can be submitted as audio files. The Statistics section even offers a graph representing the island's recorded music output between 1960 and 1985. According to this, output peaked at nearly 2000 titles in 1975 and declined to just over 200 in 1985, having started at just over100 records in1960, although this might reflect the tastes of contributors to the project.
The new website will be a focal point for the continuing research and study of the depth and breadth of Jamaican music. Suggestions from users will help to shape the way the programme works in future upgrades so this is a truly interactive project. Much of the new material in the second edition has in fact been contributed by other enthusiasts.
Roots Knotty Roots is available from Dub Vendor in the UK and from Ernie B's and Jammyland in the United States and is priced at US $94.95.
Robert Schoenfeld, apart from being an enthusiast and collector of reggae music also puts out regular lists of rare Jamaican 7" singles for sale and auction. He is also the director of Nighthawk Records (PO Box 1432, Maryland Heights, MO 63043, USA www.nghthwk.com/) which has released a wide selection of reggae and American R & B records.
Below is an online interview with Robert conducted in January 2003.
> Robert, many thanks for the Roots Knotty Roots book & CD database. Congratulations on a very impressive achievement.
Thanks very much, Geoff. This edition is the fruition of a very long process that actually had roots that reach back about twenty years because I have begun tracking JA singles quite a long time ago.
> - What is your own history as an enthusiast of Jamaican music?
I started visiting Jamaica in 73/74 and was already a record collector so I usually spent my time cruising shops in Mobay in those days. In 76 the NH label was begun with 4 blues reissue albums and in 19080 we released our first reggae album -- Wiser Dread.
> - When did you first conceive of this project & how long did it take to complete the first edition?
For many years I kept a hand-written notebook with the same kinds of information on titles. I still have that notebook and it runs to 300 pages of fine-line notebook paper. That was the beginning for me. However, the idea for a formal published discography actually began about 3 years ago this summer on the reggae newsgroup on the Internet.
Mike Turner and I worked for about a year and half to get the first book out and another year or more for the second one that just came out. The file work was a process of working all day, every day for 10, 12, 14 hrs seven days a week for that entire time. It is very time consuming work.
> - How many people worked to complete the discography?
When I first bought a computer, one of the first things I did was to begin to transfer my old, hand-written notebook into MS Word. That was in 1998 and the entire notebook in Word runs to 500 pages. When the topic came up in the reggae newsgroup several years ago, Mike Turner and I connected and he had his collection documented in a Works spreadsheet.
I took his spreadsheet and my Word file and began to blend them together into a new file, using Excel. Mike is a doctor, so he did not have the time to put in that I did. At the time we began, I had just been in an auto crash (my car was hit head-on by a drunk driver and I spent 12 days in hospital.) I had the time while I was recovering, so I did most of the work and Mike has helped and contributed at every step of the process.
> - How many unsolicited contributions (ie missing records) did you get from the reggae fraternity to bring about the 2nd edition?
We have received a lot of contributions. Some were minor or too small to take notice of but some have been very substantial. The more substantial contributions have all been noted in our acknowledgements with only a few exceptions. Currently we show contributions from roughly fifty collectors.
> - Any anecdotes to illustrate the difficulties of collecting/identifying Jamaican records?
Well the difficulties of collecting are probably largely known today by all of us since the records have become very hard to find. Identification is a very tricky business because everyone does not always agree on every attribution. We still find duplicated titles where conflicting information has found it's way into the files from different sources.
Part of the process of editing is to attempt to resolve such conflicts and to make the sometimes rather Solomonic decisions about how to list a title. Data is always hard to confirm and we generally give our contributors the benefit of the doubt. However, it can be very hard to sort out conflicts -- especially when the records are not available to listen to.
This project, by definition, will probably always be a work in progress. Every day continues to see changes and revisions as new information is available. That is probably the main reason we have tried to move to the software approach because it is obviously easier to update. There remain many unidentified records out there and I have titles in my collection for twenty years that I still do not know who they are by.
> - Any thoughts about why the 7" single has been the preferred JA medium
for so long?
A lot of things pertaining to Jamaican music that might look like someone made a decision to do thus and such are in fact really driven largely by the economics of business. My research shows that turntables were more widely available at an earlier time in Jamaica than was previously thought. And record sales in Jamaica were more widely established than most of us previously believed at an earlier date because in fact, the 78 was actually a well established format in Jamaica before there ever were 45 singles.
To the extent that the equiptment could be purchased and imported, many decisions and directions were guided by the available technology. The 45 vinyl record we know is a superb medium for conducting sound and it was inexpensive to make and affordable to buy. Reggae has always been a singles medium so the 45 was and remains the most perfect way to make and sell music there.
> Many thanks. Also, are you still putting out record lists?
I have a catalog of my sales inventory, but it has been very hard to find time to juggle all the things I want to do when the work was going on daily. But now that the new edition is out I am planning to do a list because I have to make up for the income I lost by working on this project the past two years.

HOME PAGE
FEATURES
REVIEWS
BULLETIN BOARD
LINKS