Perry Henzell: director of The Harder They Come
Directed by Perry Henzell in 1972, legendary Jamaican movie The Harder They Come is the story of Ivan, innocent country boy who comes to the big bad city of Kingston to make his fame and fortune as a reggae star. However, he finds not stardom but poverty, betrayal and despair. Drifting into the lower reaches of the ganja trade, Ivan becomes a notorious gunman, loosely based on the life and exploits of real life ghetto outlaw Rhygin, and dies at the end in a hail of police bullets.
Or maybe not, as I discovered when I interviewed its director, Perry Henzell, at Jake's Place in Treasure Beach on Jamaica's fast developing south coast. Jake's is a landscaped bar, restaurant and general hang out run by Perry Henzell's son and immediate family, although Perry himself spends most of the year at his home in Runaway Bay on Jamaica's lush North Coast. The week before Jake's had attracted over two hundred people to a weekend literary festival which Perry Henzell intends to be an annual event. A restless and energetic spirit, Perry Henzell has never been content simply to be known as the director of one great film, and the key feature of the interview was the range of projects he is and has been involved in, some frustrated, others which should be better known, and some which are close to fruition.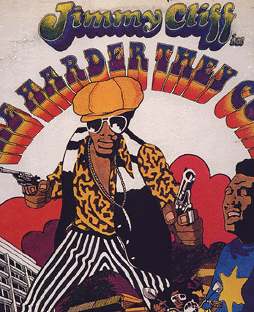 On its release at Kingston's Carib Theatre, The Harder They Come was an instant sensation. Recalls Perry Henzell "In those days it was one big 1500 seat theatre. Outside, the crowd was so big that you could not see the end of it. There was a huge industrial chain link fence around the theatre and the crowd just flattened it. They broke the doors down. When there were three people in every seat, we ran the film. People just started screaming. It was unbelievable. It was every director's wildest fantasy. It ran for several months, and at two other cinemas. It just took over Kingston."
Although the film enjoyed similar commercial success in London, playing for months on end at the ABC cinema in Brixton Hill, Perry Henzell recalls, "It was a difficult sell. The first night the theatre was empty. Not one critic had gone down there to review it. I had to write up the story of the Jamaican opening and print up thousands of flyers and literally stand outside the underground station in Brixton and hand them out. That turned the tide. The film took off. Time and time again, everywhere, the film would just have died without a lot of hard work."
For reggae fans, the soundtrack of The Harder They Come is of course a highlight of the film. Aspiring young singer Ivan is played by Jimmy Cliff, who wrote four songs of his own for the film, You Can Get It If You Really Want, Sitting In Limbo, Many Rivers To Cross and of course The Harder They Come itself. Jimmy Cliff had no previous acting experience but, says Perry Henzell, "He studied fast. By the end of the film he was a damn good actor. Jimmy had been through that exact process of country boy come to town to break through in music. He knew that world. I would consult with him on the realities of what he had come through. As a director I want to cast someone who knows more about the role than I do and draw out of them what they know."
The rest of the soundtrack features such classics as The Slickers' Johnny Too Bad and Desmond Dekker's 007, all chosen by the director himself. "Jimmy was going to do that" remembers Perry Henzell, "but it was getting towards the end of the film and he was busy doing other things so when we were coming up to the mix in London it got very urgent. So I spent a whole weekend running the film back and forth in my mind and chose all the music I'd grown to love over the years that fitted. Monday morning I sent up to Chris Blackwell at Island records to get it. He sent it down to the editing room and we laid it in in just a week or ten days. It's the best weekend's work I've ever done. That was a golden time for Jamaican music, the sixties and seventies. The Heptones and Toots and Desmond Dekker. I used to share a studio when I was making soundtracks for commercials. I spent a long time at studios like Federal and Dynamic when I was there to do my own work. I like the atmosphere at recording studios and spent a long time there in recording sessions just out of interest."
One of the most acute portraits in the film, shot at Dynamic Studios, is of the rapacious record producer who pays Ivan a miserly twenty Jamaican dollars for his first record, The Harder They Come. When the singer protests, the producer denies his own record any airplay to teach Ivan, and any other rebel spirits, a lesson, only to promote it big time when Ivan goes on the run as a killer and a gun man. Perry Henzell remembers the producer as "a composite figure, not based on a particular individual, although Jimmy tells the story of getting no money at all for his first record."
In another memorable scene Ivan chases a rival gunman out of the ghetto, chasing him at gunpoint through the gullies and lanes as the local children join the chase, pelting the fleeing gunman with rocks. "We shot that deep in West Kingston. We didn't have any problems" says Perry Henzell. "In those days West Kingston wasn't nearly as dangerous as it is now." Last year's Third World Cop, likewise set largely in Kingston, reportedly suffered problems filming in ghetto areas, due to the threat of violence and extortion from those referred to euphemistically in polite Jamaican circles as "community figures".
A sophisticated element of the film is the way that Ivan comes to see his own life as a kind of movie. Early on he watches a violent spaghetti western in a Kingston cinema filled with other dispossessed young men. As the screen hero faces up to seemingly insuperable odds, Ivan's streetwise mentor Pedro leans towards him and whispers "Star bwoy cyaan die till the last reel." In his own climactic final scene in which he is cut down by a hail of police bullets, and into which images from the spaghetti western are cleverly intercut, Ivan repeats this line like a talisman, emphasising the degree to which his own life, and that of many other poor Jamaicans, has slipped over into fantasy. The scene also cleverly suggests the wave of violence soon to break over the heads of ordinary Jamaicans.
Indisputably the greatest Jamaican film ever made, The Harder They Come is also one of the finest films yet made about the Third World. As Perry Henzell puts it, "The promise of the city for Ivan was a complete illusion. In the early seventies all over the world the radio was going into the countryside and attracting people into the city with the promise of goodies and the high life. Millions of people responded. So it was a world wide phenomenon." If The Harder They Come is the first chapter of the Third World story, its journey from rural innocence to urban disillusion, then Perry Henzell's first novel Power Game, is its second, darker chapter, taking as its starting point the political violence that racked Jamaica throughout the seventies.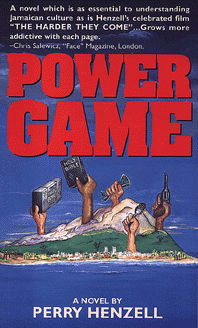 It is not generally known that The Harder They Come was conceived by Perry Henzell as the first part of an ambitious trilogy, whose second part, the film No Place Like Home, was never finished due to lack of finance. Power Game, published in Jamaica by Ten-A Publications in 1982 and still in print, was intended to be the third part of this trilogy.
The novel begins with a barely veiled fictional account of the notorious Green Bay killings, in which aspiring young gunmen were lured with the promise of guns out from the ghetto to a secluded beach by a faction of the armed forces and then massacred in cold blood. This is the murky world of Jamaican politics and violence as laid bare in Laurie Gunst's Born Fi Dead. A disturbing, apocalyptic read, Power Game is filtered through the different viewpoints of five key players, from the army, the International Monetary Fund, the ganja trade, the media, and the streets. The novel concludes with an imagined all out civil war in which Kingston is fled by its population. As Perry Henzell says "That hasn't happened in Jamaica, I'm glad to say, but it certainly happened in Guatemala, in El Salvador, it's happening now in Colombia, it's happened all around the Caribbean."
Although middle class and professional people left Jamaica in droves during the violence and economic chaos of the seventies, Henzell himself was never tempted to do so and remains optimistic about the resilience and potential of Jamaican society. "We have a tremendous tradition of freedom of expression. It's one of the things that makes Jamaica special. We've also had outspoken journalists, our radio talk shows are amazing. Jamaicans just feel free to express themselves."
Nevertheless it is clear in talking to Perry Henzell that despite the critical and popular success of The Harder They Come he has made little or no money from it. This will be a familiar story to Jamaican musicians, whose innovation and creativity has never ensured appropriate respect and financial reward worldwide. Perry Henzell rewrote Power Game for a projected television series which again was not realised due to lack of finance. "I was never able to get financing for anything after The Harder They Come. I came to grief with the second picture I made. It bankrupted me. It took me years to recover. I was so pissed off I left the film business and started writing novels, apart from writing screenplays for other people."
Nevertheless, he has continued to involve himself in a long roll call of creative projects, some of which should really be better known outside Jamaica. "In 1988 I wrote a full scale musical on the life of Marcus Garvey. What a great story. It was performed at the Ward Theatre downtown. Toots and Ernie Smith wrote the music. I planned a record, but the musical never made the shift abroad where it might have made some real money. But just recently I've had some interest from London."
Perry Henzell has recently finished a historical novel, Cane, to be published by Grove Press later this year. Set in the Caribbean during the turbulent era of1780-1815, it concerns a visionary young steam engineer who is deported to Jamaica as an indentured labourer. The novel engages with the institution of slavery and with what Perry Henzell terms "the geopolitics of sugar" through the hero's life and loves. "It's the story of his twenty five years and the women he falls in love with over that time. One is black, one is brown, and one is white. It's quite a broad canvas. My people were around here in those days. Both sides of my family have been part of the Caribbean for a long time. I want to get away from the cliches of depicting slavery. What's fascinating to me is the way people rose above those circumstances. I wanted to give a picture of that time which wasn't as simple minded as the way I see it depicted time and time again. I wanted to give some subtleties. The way that the age of slavery has been represented is ridiculous. It dehumanises everyone, both white and black." Asked if he expects his novel to ruffle a few feathers, he replies simply "Yes."
Last of all, a project which is mentioned only towards the end of the interview, almost as a casual aside, but will be of enormous interest to all fans of reggae music. This is the news that a sequel to The Harder They Come is now in the offing. While understandably unwilling to give too much away Perry Henzell says "It's thirty years later. Ivan comes out of gaol, terribly damaged. So it's the story of how music revives him and brings him back. The script is written. The funding will come from Los Angeles and they say they have the money."
So, as Ivan says in the movie, star bwoy cyaan die til last reel.
In the crowds that laid siege to the Carib Theatre back in 1972 could be seen Jamaica's hunger for images of its own life and creativity. A hunger that can be seen too in the adulation Jamaicans give to their musicians and to such charismatic politicians as the late Michael Manley. Jamaica needs men like Perry Henzell to articulate what it knows about itself. The rest of the world needs what Jamaica has to say about itself, in cinema as well as in music.
Copyright, Geoff Parker, 2001
HOME PAGE
FEATURES
REVIEWS
BULLETIN BOARD
LINKS