ZINC FENCE RECORD OF THE WEEK
False Prophet
Luciano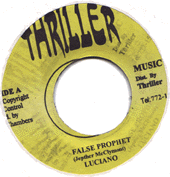 Although Luciano's False Prophet has been out for a few weeks now, it has yet to make much of an impact in terms of sales. In fact, it shows every sign of sinking without trace which is strange, because every feature of this record on D. Chambers' Thriller label is absolutely top notch.
The Juggling rhythm over which Luciano sings bounces along in fine style and there's the added bonus of a straight, no nonsense dub on the version side, which in these days of radio edits, remixes and accapellas is becoming something of a rarity. The rhythm is a close relation, if not an identical twin, of Barry Brown's Not So Lucky, which will be recommendation enough for those who know that tune.
It was something of a shock when Luciano parted company with the Xterminator label but both the quality and quantity of his music has continued unimpaired. Here, sounding rather like Frankie Paul, he sings of the current absence of cultural lyrics in reggae music, warning:
Cool it off, the madness and the slackness, will you cool it off,

The negative lyrics, will you cool it off.
Two other cuts to the Juggling rhythm are also in circulation, Spanner Banner's Lord Deliver Me and Original Thriller's Juggling Spot . For me, Juggling Spot is almost as good as its Luciano counterpart, being a witty account of the Original Thriller's, surely producer D. Chambers himself, piece of land and the ground provisions he grows upon it and then sells on the street corner. These righteous vegetables, yam, cassava, corn peas and the like, he juggles like a top selector juggles on the record decks:
Ketch me pon me juggling spot

My spot a vegetable spot

Beetroot, aily, carrot, corn peas, potatoes pon the spot

All kind a vegetable me have got

Me have ital stew pon the spot
Both records look set to be the ones that got away for this year so don't miss out on them.
HOME PAGE
FEATURES
REVIEWS
BULLETIN BOARD