Curly B: Original Revival Godfather
There's been a large Jamaican community in London for over half a century now and it's probably true to say there is more revive reggae, and of higher quality, played in this city than anywhere else in the world, and that's including Jamaica. In recent years the growth of the pirate radio stations has done much to make this music accessible to a larger audience.
The first "pirate", or unlicensed, station to broadcast reggae music in London was the Dread Broadcasting Corporation, operating out of Ladbroke Grove at the beginning of the Eighties. Later in the decade, a whole generation of unlicensed black music stations came on the airwaves, the most famous being KISS FM, with reggae DJs like Joey Jay and Menasseh. KISS won its fight for a licence and is today London's best known black music station, although some would argue that as a result it has moved to the soft centre and has long since lost its cutting edge. Ferocious new legislation from the Board Of Trade to eradicate the pirates had no effect whatsoever and there are now more than ever, catering for every ethnic minority and every conceivable style of dance music including hip hop, garage, jungle, R & B and, of course, reggae.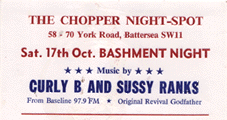 It's become a tradition for London radio stations which serve the black community to set aside Sunday as something of a day of rest from the raw, hot sounds of current Jamaican dancehall, often catering for an older audience, perhaps with gospel in the morning, a 'quiet storm' programme of soul music, and then a 'rice and peas' revive reggae session in the afternoon.
Standing out from the field is Curly B's show on Bassline FM 97.9 every Sunday between 1 and 3 pm. Curly B's parents came to England from Craigmill in the Jamaican parish of Portland and Curly himself was born and brought up in Brixton, South London. Curly was raised on the sounds of Sam Cooke, Brooke Benton, Nat King Cole, Slim Smith, Prince Buster and John Holt. "My father was a music man. He followed a lot of sound system and passed his knowledge on to me, from a likkle boy still. From the days when we used to play on the radiogram, pile up the records and they drop down one by one. That radiogram was like the school. Place the music, put music together."
Which is exactly what Curly B does now on his Bassline FM show. In his own words he "blend records together to make a beautiful picture musically. So when you play one tune, it complete the one that went before. It a sequence thing, you know."
"My father used to follow Neville the Enchanter, Duke Reid UK, Count Shelley, Sir Coxsone, Trojan. In the days of Roaring Twenties in the West End, Flamingo, Columbo, all those places." Part of the boyhood apprenticeship for any self respecting reggae artist and sound man seems to have been to sneak out of the house to a dance as a boy and then get the inevitable chastisement from their parents. However Curly B was in the enviable position of actually being taken out and about by his father. "He used to take me around because he had a lot of friends at the time that did play sound so from a tender age I was always around sound and watching the work, how they play music. My father would play too. He had a little set for family parties, house parties."
Curly started his own career in the sound business "from 79, at school, with the Lord Shane sound. We would play North London, South London, all over. My role was to hold the mike, alongside the operator and the selector. Then every man had his role and you just had to master it. Chat over records, DJ, introduce. Introduce was the part I really like the best, especially if a tune is not really familiar with the people. You really have to introduce it in a certain way to have an effect on the crowd."
Curly now shares the decks with long time musical partner Sussy Ranks. "Sussy Ranks is my bredren. We go back over 15 years. We have a good working partnership together musically. On the radio show we play one for one. The way we connect spiritually and play music is like the one man. I've been with Bassline about 10 years. I was on Galaxy previous to that. A very good station. You're always on the scene but some day your break come and it's Galaxy that really break us to the audience."
The depth of his record box is the first thing that puts Curly B in a different league to the rest. He can draw on an endless supply of rare and brilliant tunes that few others can touch. "My record collection start from my father. When he went back to Jamaica he left me all that he had. Plus, I was always buying records, from the days of doing a paper round when we used to get fifty pence. A Jamaican '45 was fifty pence then. Straight down the record shop, Desmond Hip City in Atlantic Road, Brixton, Soferno B, Sound City, Peckings and Greensleeves in West London, Daddy Kool in the West End. All over London for my records."
But it's also the breadth and originality of the selection he plays which makes the Curly B musical experience so distinctive, covering the whole range of Jamaican music from its very beginnings up to late seventies roots. A regular feature of his show on Bassline FM is the Over Forties Selection in which he plays such names as Jackie Opel, Stranger Cole and Derrick Morgan, shuffle, doo-wop and R &B flavoured ballads from way back in the days before ska. A really good DJ will make you hear music that you thought you knew in a completely different way. So in the hands of Curly B records that others might dismiss simply as "soft tunes", reveal their true depth and rootsiness. This is why Curly B commands a loyal following who know their reggae music inside out: "We have a big people crowd, very knowledgeable, from the age of 30 to about 60, sometimes over. All kind come out when we play."
Curly cites Brixton's Soferno B sound as the sound system that really inspired him as a youth in South London. "The Soferno B selector, Chabba Youth, when he play music, you feel it. He play it in a certain sequence where you find the sound system start to talk to you so you go in a kind of vision. You see stars them time there inna dance. And the great Jah Shaka is a next one. When you listen to those sounds, you can have most problems, you can have no money, but them man deh convert your heart."
Which is not only an eloquent description of the sound system experience but also a perfect description of Curly B's own approach as a DJ. Unlike some DJs who just drop the records one after another without engaging with their crowd, Curly B works with his audience, both on his radio show and out at a club. Listening to his radio show with its constant stream of dedications and messages, his own friendly, intimate chat over and between the records, it's as though his audience is right there with him in the room, rather than spread out the length and breadth of London town. "Every tune is like a spiritual thing. I can play one tune and then my spirit might just tell me, play this next tune. And it works. So it's a spiritual thing. Which is the father still, guide me in the music. Strong."
Curly's show is noteworthy for his own positive values and his emphasis on close family ties between the generations and his show works as a bulletin board for London's black community. "Music plays a major part, music is the message. Sometimes a certain vibe will come out, will touch you. It's not a planned thing, you know? We don't plan that in today's show we'll talk about this, or talk about that. It's a spirit. We just leave it to vibes and inspiration from the most high. All our faith and trust and everything must reel off from there."
Asked how he feel about current reggae music, Curly replies "In reggae now, the fire is burning again. The roots and culture side is taking the front line like a storm. It's coming back round again. The revive is the roots beca' the music now comes off the original Studio One, Lee Perry, Tubby's rhythms. The rhythms those guys built is really the same music running back now, only updated. In other words, the table has already been laid. A record like "Down By The River" by Morgan Heritage will take young people back to the original rhythm, back to The Cables and 'What Kind Of World' on Studio One. Back to all the original Studio One rhythms. So a younger generation is getting into revive now, through the new music."
Right now, "We play the Apollo in Willesden Lane and Seventy Sevens Club, Dalston Lane. We have a little thing coming up in Amsterdam in November. We're looking to take people over and play there for three nights. In the next few years I'd like more travelling. JA, America, Africa, to really get the experience, with the same fire burning, just like we do it here."
In his own words "I thank each and everyone that's giving me encouragement in the business. Mother, father, sister, wife, kids, bredrens and sistrens. Just one love, keep the fire burning and let the reggae music play."
HOME PAGE
FEATURES
REVIEWS
BULLETIN BOARD
LINKS