THE ZINC FENCE MILLENIUM COUNTDOWN
Record of 1983
Captain Selassie I
Icho Candy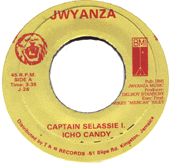 One of the enduring fascinations of reggae is those artists who make a single undisputed classic and then do nothing, or virtually nothing, else. Icho Candy falls into this category. I know of only five other records that he made, although probably someone will correct me before long: Mr User (Power House) 1984, Babylon (Rockers) 1987, Jah Calling All Over the World (Creation) 1990, and, I'm reliably informed, a version of Hank Williams's Jambalaya for Augustus Pablo. He also cut an album for Jah Shaka. The only other records I know of on the Jwyanza label are Pain (1982) and Gwan A School both by Brigadier Jerry (1982) so some have speculated that this was Briggy's own label, although production credits are given here to Delroy Stanbury.
Icho Candy's haunting Captain Selassie I was a sound system favourite when it came out in Jamaica in 1983 but was never a hit as such and, to the best of my knowledge, never got a release outside the island. Since then however it has achieved deserved cult status and it would be no exaggeration to say that this is one of the most sought after tunes of the Eighties. No selector should ever play a dance without this one in the sound box.
Although Icho Candy's voice is high and hypnotic, he does not appear to have modelled himself on Horace Andy, unlike other Jamaican high-voiced singers of that time. There's more to Icho Candy's voice than that tremulous, warbling quality so distinctive to Horace Andy. If he sounds like anyone at all, it's actually Garnett Silk, (think of Harder or Green Line and you'll get the idea) who of course did not appear on the Jamaican recording scene for another decade. This seems appropriate, for the whole record has the feel of something slightly ahead of its time. There's a hypnotic, repetitive feel to the production that gives it almost a digital sound, although the digital revolution did not take place for another two years.
One of the lines of the song goes "sailing on, my life goes sailing on" which is appropriate, for Icho Candy's voice does exactly sail over the much versioned Heavenless rhythm. "Once I was a reckless gambler.." he sings, like a reformed sinner who has seen the light. And indeed, notwithstanding the lyrical references to Selassie I and the ites, green and gold, the whole tune has the feel of a hymn, or more exactly a "chorus", one of those catchy and uplifting songs sung in innumerable little churches all over Jamaica that are so much part of the island's musical heritage. It's a record which reminds you that, for all the obvious influence of Rastafarianism on the musical life of Jamaica, the influence of the churches on reggae music has been greatly overlooked.
Selected by Geoff Parker
HOME PAGE
REVIEWS
FEATURES
BULLETIN BOARD