King Jammy's
by Beth Lesser (ECW Press) ISBN 1-55022-525-1
The illustrious career of supreme dancehall producer King Jammy has been well documented elsewhere, in particular his decisive role in the digital revolution that transformed Jamaican music in the Eighties. However, Beth Lesser's King Jammy's, recently reissued after first publication in 1989, is no ordinary biography but an eye witness account of those decisive years that reads as fresh now as it did at the time.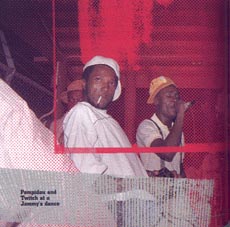 Beth Lesser explains in her introduction to the new edition how she spent the Eighties travelling back and forth from her native Canada to Jamaica. Her initial contact in Kingston was reggae legend Augustus Pablo and his circle of committed Rastas. But she had the ears and the open mind to know that something else was going on in Kingston, something that would change the face of reggae music. Jammy's musical experiments with a cheap Casio keyboard were to grow into a full scale digital revolution and Lesser was there to experience this, convey the excitement through text and photos, and remind today's reader why, over 15 years later, digital music still controls the commanding heights.
King Jammy's is in essence a journal, with a diary's unpretentious immediacy and detail. For instance, Beth Lesser writes of her first meeting with Jammy 'he was sitting on an upturned box in his yard with tools scattered around him. An air conditioner blade had come loose in the middle of a voicing session and it was creating too much noise to continue.' The tight focus on Jammy himself works to Lesser's advantage, capturing the intimate village feel of Jamaica and its recording industry.
Having summarised Jammy's history and that of his Waterhouse studio, Beth Lesser's account continues in self contained passages, each describing an entertainers, a rival producer, a studio engineer, a memorable soundclash or recording session. However these thumbnail sketches build into a chronological narrative as gripping as any novel. Throughout it all, Beth Lesser was there, in Jammy's studio, in Jammy's yard, at the dances. She writes of the legendary soundclash at which the new digital sound, in the form of Sleng Teng, was first unleashed by Jammy: 'The bass sound that was coming out of those boxes was like nothing that had ever been heard before. It was absolutely clean- powerful and pounding. It just stopped your heart.'
Above all Beth Lesser was behind the camera. One of her photographs shows Tenor Saw voicing Pumpkin Belly. Beth Lesser was there in the studio to hear him make that record. The photographs, often of dancehall's footsoldiers and marginal figures, are as unmissable as her text. Frequently they are distressed to merge into the bright day glo pages - vermilions, ochres and azure blues- of her book.
Consciously or unconsciously, Beth Lesser evokes here the strident graphics of the first years of the punk revolution, whose do it yourself, back to basics philosophy seems entirely appropriate to the throwaway entertainment ethos of digital. And, just like punk, the digital revolution was greeted with shock and outrage by many. By everyone, in fact, except those who mattered, reggae's core audience of poor urban Jamaicans who wanted to get out, dance and enjoy themselves. A short pocket sized book, King Jammy's evokes the much beloved Jamaican 7" single, still the way the island's music comes out in the 21st century. This further emphasises the cheeky lack of pretension of the dancehall music that this book celebrates.
The new edition of King Jammy's ends with a bonus afterword by Steve Barrow, co-author of Reggae: The Rough Guide' and an appendix of articles and interviews from Reggae Quarterly, which Beth Lesser co-edited. While in terms of size, King Jammy's remains a slim volume it is a big book in every other respect.. It remains an essential part of the ever-expanding reggae bookshelf.
HOME PAGE
FEATURES
REVIEWS
BULLETIN BOARD
LINKS