ZINC FENCE RECORD OF THE WEEK
AFRICAN TEARS - PETER HUNNIGALE (CHARM)
Peter Hunnigale - alongside Janet-Lee Davies, Don Campbell, Peter Spence and Don Ricardo - has played a major role in the 'growing-up' of UK lovers rock. But here he takes on a slightly different role, applying his warm and beautifully controlled tones to a 'reality' lyric - and a superior one at that. Rather than simply retread Rasta sentiments - which have always seemed more relevant to Jamaica than the UK - he has looked at what's happening nearer at hand and commented from the heart. His theme is the recent outbreak of the black-on-black violence that have been afflicting Britains inner cities, and the more negative aspects of hip-hop/ragga culture:
I don't appreciate you calling me nigger
And calling sisters bitches and whores
I don't accept this kind of misrepresentation
Especially when you know we've been there before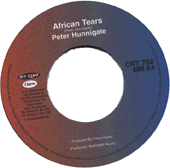 He continues with the observation:
You can't expect to gain the respect of others
When it seems you don't respect yourself
It seems ignorance has clouded our vision
And so instead we're busy hurting ourselves
Before the chorus that will prompt flames from massed lighters at dances for years to come:
Tell me where the Blackman's future lies
And what about the African tears we cried
The rest of the thoughtful lyric then supplies answers to a couple of attendant questions:

How could there be so much misunderstanding?
When Black history can speak for itself
People dying in the name of the ghetto
With the knowledge that don't make any sense
We all know unity is the answer
But the way we treat ourselves is a shame
Cos everyday we face the very same problem
But the question is: will it ever change?

As with all of the Peter Hunnigale tunes that have deservedly risen to the upper regions of the UK reggae chart, the rhythm is of the easy-rocking variety that usually supports a lovers lyric - which, in fact, it does on the on the other side, with the almost as strong Going out Of My Head. African Tears itself originally appeared on Jet Star's Reggae Hits 24 , but its popularity meant a 7" release was inevitable.
A leading contender for record of the year.
Peter Dalton
HOME PAGE
FEATURES
REVIEWS
BULLETIN BOARD