Live In Brixton:
U Roy with Stur-Gav Sound System
If you weren't there you'll never know what you missed. Stur-Gav, the legendary Jamaican sound system, played at the Brixton Recreation Centre on November 7th and fifteen hundred packed in to hear them, rocking right through till six in the morning.
Over in England for just two dates, Stur-Gav was formed by seminal DJ U Roy back in the early Eighties. This is the man who ruled Jamaican music at the end of the Sixties and virtually invented toasting in its modern form. U Roy's sound system are captured live in action on an album from 1983 entitled Stur Gav Live At The Fish Wirl Club, Negril. This record also has the distinction of being the first, and almost certainly the best, live dancehall record ever made.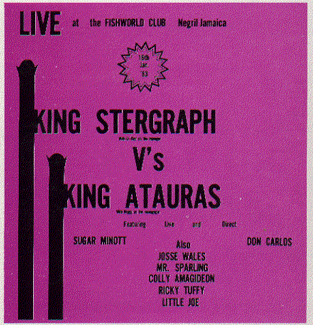 This is the first time Stur-Gav has performed since those heady days. The whole roster of DJs from that era were here in Brixton on Saturday night, including Josie Wales, Charlie Chaplin, Brigadier Jerry and U Brown. As if that wasn't enough, singers Al Campbell, Johnny Osbourne and Linval Thompson all took their turns as part of the galaxy of talent grouped around the decks. This was a night when the riches were abundant, so if I've missed anyone, then no disrespect intended. Each set his own stamp on a succession of unique dub plates and on monster rhythms of the early dancehall era like Arena, Real Rock, Stalag, Full Up, and Heavenless. A knowledgeable, wildly enthusiastic crowd roared out their approval when Josie Wales went into "Kingston Hot", Johnny Osborne into "Lend Me Your Chopper", Al Campbell into "Turn Me Loose" and Brigadier Jerry into "Pain".
But what really got the lighters in the air and the airhorns blowing was when the Godfather himself, Daddy U Roy, took up the mike. His locks greying now but neatly tied back and stylish under a broad brimmed hat, and looking sharp in a full length black leather coat, he was every inch the wise, benevolent teacher. Other images stick in the mind. Josie Wales disappearing behind a huge cloud of blue smoke from an outsize chalice. U Brown with his eyes closed, his neck arched and head back, spinning lyric after lyric up towards the ceiling of the Brixton Recreation Centre. A Rasta pulling off her head wrap and exuberantly whipping it above Brigadier Jerry as he toasted into the mike.
I can't remember the last time I saw so many happy faces under one roof. Buy the video of the dance when it comes out, get hold of "Live At The Fish Wirl Club", but as fifteen hundred people will tell you, it can never be the same as being there.
HOME PAGE
REVIEWS