The Skatalites Meet King Tubby: Heroes Of Reggae In Dub
Musicians:
Roland Alphonso - Alto Sax
Leroy 'Horsemouth' Wallace - Drums
Benbow - Drums
Lloyd Knibbs - Drums
Tommy McCook - Tenor Sax and Flute
Lester Sterling - Tenor Sax
Don D. Junior - Trombone
Ernest Ranglin - Guitar
Lloyd Brevett - Acoustic Bass, Percussion, Congas
Ras Michael - Congas and Percussion
Augustus Pablo - Keyboards and Clavinet
Jackie Mittoo - Keyboards
In 1975 Jamaica's most talented and experienced musicians, the core members of the legendary Skatalites, reformed to make the music on this album. More than twenty years on, it is being released for the very first time.
These sessions were produced by Lloyd Brevett, founder member and bassist of the Skatalites, and Glen Darby, who sang professionally as a 14 year old for Coxsone Dodd at Studio One. As part of vocal group The Scorchers he recorded songs like Ugly Man and Hold Tight for producer Lloyd Daley, and in the Seventies produced and promoted tours for artists like Larry Marshall, Delroy Wilson and the reformed Skatalites themselves. Glen recalls that for the musicians involved in this album it was always more than just another recording session. "They didn't really do it for money. They wanted to reform the group, the Skatalites. It was a reunion album. Everyone loved the idea and it reformed the Skatalites. About three years after this they toured America and then the world."
The Skatalites had dominated the music of Jamaica in the brief period between their formation in June 1964 and the breakdown the next year of their leader, trombonist Don Drummond. They defined ska as a driving, assertive and truly home grown music appropriate for the newly independent island. These veteran musicians had worked together for many years before the formation of the Skatalites, even before the birth of the Jamaican recording industry itself, making their living in the big bands, dance bands and jazz bands that preceded an indigenous Jamaican music. Don Drummond, trumpeter Johnny Moore and Roland Alphonso had even attended the same school in the Forties, the Alpha Catholic Boys School in Kingston, and received their musical education there.
With the demise of the Skatalites, these men simply continued as before to freelance, now as session musicians for every major producer and artist on the island, thereby exercising immense influence over Jamaican music as it developed from ska to rocksteady and into what the world has come to know as reggae. The history of these musicians is literally the history of Jamaican music itself.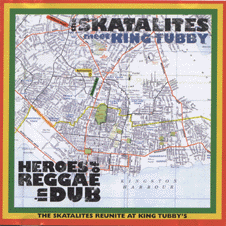 The music on this album was recorded over a two month period at three recording studios in Kingston, Jamaica; Joe Gibbs studio on Retirement Crescent, Aquarius on Molynes Road and Studio One on Brentford Road. However, such is the coherence and integrity of the music here, it is hard to believe it was not recorded in a single session. One reason for this is the aforesaid calibre of the musicians involved, all veterans in the business who had played alongside each other for many years.
Equally significant however is that these tracks were mixed by another reggae legend, the great King Tubby, over the course of two nights at his four track studio in Drummlie Avenue. King Tubby was without doubt reggae's most startling innovator, the man who single handedly invented dub by massively bringing forward the bass and the drums, dropping the vocal in and out of the mix, and bringing in a range of reverb and sound effects. He thus anticipated by many years the drum and bass explorations of Nineties dance music. Recalls Glen Darby "Ling Tubby was a highly sophisticated engineer. He could take nothing and make something. He was in a good mood. We went there at midnight when it was peaceful and quiet."
Tubby's unmistakeable musical signature is stamped upon every track on this album. On Dub Of Love the drifting, hypnotic heavily reverbed horn statements of Tommy McCook and Roland Alphonso drift across an insistent, uptempo bass. Give Thanks highlights a Vin Gordon trombone melodic line reminiscent of Errol Dunkley's Black Cinderella which cuts in and out of Augustus Pablo's ethereal clavinet. Of an as yet unreleased Tony Brevett vocal cut only the first line survives.
Ernest Ranglin's shuffling guitar on Close To Jah duets with Tommy McCook's haunting flute across some complex percussive interplay. Herb Man Dub features the kind of heavy, stepping bass line you think you must know from somewhere else, although in Glen Darby's words, "All of Lloyd Brevett's bass lines are original. 100% original. He don't know how to follow somebody." This track shows Tubby's mixing at its most intense and perhaps closest in feel to his collaborations with Vivian Jackson of that period. The opening vocal statement, duetted by Tony Brevett and Lloyd Brevett's wife Ruth, is then repeated throughout, hypnotically reverbed, by Tommy McCook's flute which is again to the fore on Zion I Dub, washing across the drum and bass like curtains of rain above the Jamaican hills.
In conclusion, it is a measure of the deep continuities in Jamaican music, and perhaps in Jamaican life itself, that while Tubby's intense, brooding mix seems decades ahead of its time, it is underpinned here not by a digital bass line, nor even by an electric bass guitar, but by the same acoustic double bass that Lloyd Brevett played in the dance bands of the Fifties! Nowhere is the continuity of Jamaican music better represented than on this album, whre Jamaica's most experienced musicians meet its most forward looking innovator.
King Tubby was senselessly murdered in 1989. This lost dub masterpiece is a fitting testament to a true hero of reggae, of who Glenn Darby says "I tell you the truth. King Tubby never smoke, I never saw him drink. He was always a smiling man. It was like the music give him a natural high. The person who killed him was one of the stupidest person in the world because they would never ever find a man like King Tubby in Jamaica again."
This record is dedicated to the memory of Tommy McCook, 1929-98
Copyright, Geoff Parker, 1998
Home Page
Features