Peter Dalton looks at how 1999 is shaping up for reggae as the millenium approaches.
The year kicked off in fine style with with producer Dave Kelly's Jamaican take on the UK jungle style. The amazing Backyard rhythm on his own Mad House label provided hits for Alias (AKA Dave Kelly himself), Wayne Wonder & Bounty Killer, Baby Cham and Frisco Kid. Surprisingly however other Jamaican producers have yet to step in with their own variations on this London based dance form so Dave Kelly has proved the only radical departure in reggae so far this year.
Jamaican producers have instead been content to develop further the two styles that have mattered most in reggae for the last few years. Namely, hardcore ragga, increasingly influenced by US hip-hop culture, and the return of a new generation of roots performers to the musical and thematic territory of two decades back.
THE DEEJAYS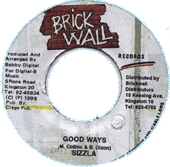 Many see reggae music as dividing sharply into hardcore ragga and roots revivalism. Yet leading Bobo-dread chanter Sizzla has shown how perhaps they are not wholly exclusive of each other. Check how he intones his declarations of righteousness over both drum-driven ragga rhythms and reworkings of classic Studio One rhythms. Three quality new albums in six months - Good Ways for Bobby Digital and Kalonji and The Royal Son Of Ethiopia for Fatis Burrell- suggest that Sizzla's supply of fresh material is inexhaustible and confirm his position in the forefront of young Jamaican performers concerned with truth & rights.
Despite Sizzla's impact, Beenie Man and his old rival Bounty Killer have maintained their dominance in the deejay arena. The former has enjoyed the greater number of best-selling tunes, from Always Be My Baby (Q45), through tunes like Let Him Go (Juvenile) and Ni Nuh Walla (King Jammys), to his most recent hits, Battery Dolly (Studio 2000) and Has The World Gone Mad (Call Me Shams).

But Bounty Killer's return to favour has also proved something of a phenomenon. Anytime (Xtra Large), on the same Bruk Out rhythm as last year's Cant Believe My Eye, spent over three months at the top of the UK reggae chart. Mr Pryce's Psycho Med was also a major hit in the reggae world, while his combination disc with Pinchers, Dem A Ray Ray (Stone Love) fully deserved to be.

The most exciting new deejay name so far this year is Sean Paul. Report To We on the how yu fi sey dat? label, on a radical new variation of the Sleng Teng rhythm, and the Chris Goldfinger produced Dis Me Family (Golden Cartel) are particular stand outs.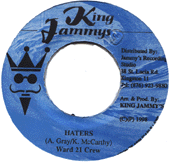 Ward 2 are a deejay crew - or perhaps rappers is the more appropriate term - who also produce their own rhythms and have successfully incorporated hip-hop elements into music that remains distinctively Jamaican. Haters will be a strong contender for the record of the year, appearing on Jammy$' Bada Bada rhythm which also gave massive dancehall hits for Bounty Killer, Mr Vegas, Zebra and Beenie Man.

Zebra clearly comes from the same part of the dee jay rain forest as the unfortunate Tiger who seems unlikely now to make a comeback after the motorbike accident that nearly cost his life a few years back. However Zebra has added enough of his own style to make a considerable impact both in Jamaica and abroad. A recording career stretching back to Prince Jazzbo's Ujama label prepared no-one for the extent of his recent success, with Red (Fat Eyes) and Selassie Warning (King Jammys) both showing him at his very best.


May saw another great album out of Studio One when Mr Dodd dusted off his vintage rhythms and invited Jamaican jazz trumpeter Roy Bubbles Burrowes to extemporise over them. Keeping Burrowes company on Reggae au go Jazz were US tenor sax players Clifford Jordan and Charles Davis and the entire set amounted to one of the most interesting projects to emerge out of Studio One in recent years, part of a lineage stretching back to those classic 1970s instrumental sets from Cedric Im Brooks and Roland Alphonso.

Excellent tunes continue to be made here in England despite the much talked-about slump in the UK reggae market, as shown by the current inactivity of Fashion Records, . These cover all facets of the music, with fine ragga and lovers records and roots outings with the same feel those as anything coming out of Kingston. Saxon, the label that grew out of the top London sound system, released a truly exceptional double set in January, from the very accomplished singer Lloyd Brown, which was split between lovers and thoughtful cultural tracks. From this came the popular single Lessons followed into the UK reggae charts by Sweet Meditation, an equally conscious deejay cut from Chukki Starr, who impressed last year with his Ghetto Youths set for the Mad Professor.
Peter Dalton, July 1999

A DOZEN TOP RHYTHMS, JANUARY- JUNE 1999

All Purpose (Main Street)
Bada Bada (King Jammy$/Shocking Vibes)
Backyard (Mad House)
Baddis (Hi Profile)
Bruk Bottle (Q45)
Bruk Out (Xtra Large)
Coochie (Fat Eyes)
Crass Cyaat (Call Me Shams)
Now Thing (how yu fi sey dat?)
Pot Cover (Size 8)
Street Sweeper (Studio 2000)
Things & Time (Penthouse/Hi Power/King Jammy$/Techniques)
HOME PAGE
FEATURES