The Sound of Channel One: The King Tubby Connection
Track Listing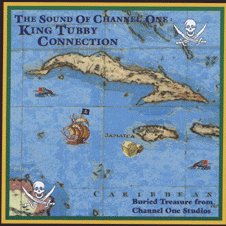 Side One
1. Delroy Wilson-Stop Look What You're Doing/Stop Look Dub
2. Jim Brown-Dancehall Vibes/Vibes Dub
3.Badoo-Headline News/Headlines Dub
4. Prince Pompidou-70 Times 7/70 Times Dub
5. Badoo-Rocking Of The Ten Thousand/Dubbing Of The Ten Thousand
6.Calvin Stuart-Babylon A Turn Them Back/Turn Back Dub
7.Desmond Irie-Dub One
Side Two
1. Badoo-I Got Love/I Got Dub
2. Delroy Wilson-You Have My Heart/Dub My Heart
3.Calvin Stuart-The Alphabet Song/Alphabet Dub
4.Badoo-I'm Gonna Tell You My Mind/I'm Gonna Dub You My Mind
5. Desmond Irie-Babylon You Must Go Down/Dub You Must Go Down
6. Badoo-Diplomatic Link/Diplomatic Dub
7. Larry Marshall-Nanny Goat/Nanny Goat Dub
Sleeve Notes
The Channel One studio in Maxfield Avenue, West Kingston was built by the Hookim brothers in the early seventies.

Over the course of the decade Channel One became one of the most dynamic and influential recording studios in Jamaica, instrumental in moving reggae music on to the spare, heavy rhythms of the mid seventies and finally to the emergent dancehall sounds of the early eighties.

These hitherto unreleased Channel One gems were all recorded in Maxfield Avenue during the 70s and early 80s and then mixed by the legendary King Tubby at his studio in Drummlie Avenue. The core instrumentalists on these sessions are none other than the legendary Gladiators, one of Jamaica's top vocal groups during the late 60s and 70s. Albert 'Youth' Griffiths plays lead guitar, Clinton Fearon is on bass, and Gallimore 'Gabby' Sutherland plays rhythm guitar. This will be surprising to those who know The Gladiators only through their innumerable vocal hits. But in fact they always enjoyed another role as in demand session musicians.
Remembers Clinton Fearon 'We used to play on and off for a couple of years at Studio One as house musicians. I personally worked at Black Ark Studio with Lee Scratch Perry for close to a year. I was house bass player and sang some harmonies and played percussions. It was me that did Roastfish And Cornbread.' Hopefully this album will contribute to a wider recognition of The Gladiators' instrumental talents. Glen Darby, who financed these sessions, remembers Errol "Tarzan" Nelson and Ansel Collins on keyboards along with other session musicians whose identities are now lost in the mists of time. Gallimore and Clinton also provide backing vocals on some tracks.

The range of artists represented here, from established stars like Delroy Wilson to unsung vocalists like Calvin Stuart, shows something of the depth of Channel One's contribution to Jamaican music. Here too can be heard the sound of the studio as it developed from the roots and culture of Alphabet Song and Babylon A Turn Them Back through to the dancehall exuberance of Jim Brown's Dancehall Vibes.
Jamaica's first ever 12" record, TRULY by The Jayes was produced by Channel One. The 12" single, with its superior reproduction of bass and treble and its capacity for playing both vocal and dub as a seamless whole, was perfect for the bass-heavy Channel One sound. So it is fitting that most of the tracks on this album are presented showcase style, each vocal with its version and each version given the full Drummlie Avenue treatment of dubwise deconstruction and mixing board magic.
The version was originally no more than an instrumental backing track- the B side of a Jamaican single with the vocal removed. But King Tubby helped turn the simple version into the dazzling art form that became known as dub. In the hands of such a master, dub at its best could be as complex and rich in musical interest as the original vocal. Tubby would strip the track down to its raw drum and bass and put it back together as something haunting and strange, using gragments of the vocal as an instrument, in complex interplay with the other instruments. He would build the tension with amplified cymbal shots and thundering drum crashes, using reverb, echo and phasing in ways that anticipated the experiments of contemporary dance music.


A keynote feature of the studio's mid seventies sound was the use of soulful voices pitched against sparse, uncompromising rhythms. Like John Holt, the Mighty Diamonds, Wailing Souls, and Leroy Smart, the late, great Delroy Wilson recorded many fine sides for Channel One. He is represented on this set by the heartfelt STOP LOOK WHAT YOU'RE DOING and YOU HAVE MY HEART. Both show Delroy's plaintive, impassioned voice at its very best.

Channel One's crisp rhythms were the perfect minimalist backdrop for the talents of the Jamaican DJ and towards the end of the 70s the studio became the spearhead for a new wave of DJs and the emergence of what came to be known as dancehall. Indeed, these hard, assertive rhythms now seem in themselves to anticipate the new brash and individualistic dancehall vibe. Badoo, real name Horace Grossett, was not a DJ as such and his vocal inspiration is clearly the high tremulous quaver of Horace Andy. Nevertheless on THE ROCKING OF THE 10,000 (a different version to THE ROCKING OF THE 5000, released in the UK as a 12" single in 1979) he rides the classic DRUM SONG rhythm with a DJ's confidence and swagger. In time honoured DJ style Badoo perfected this funny, acute lyric on the Kingston sound systems before committing it to record. Here Badoo wittily describes the Jamaican dancehall on a Saturday night and his subject matter, "Ranking drinking Heineken, fryers eat fried fish, sops eat cornbread" anticipates later dancehall concerns, namely the Jamaican dance hall itself and the simple pleasures of going out and having a good time.

Dancehall's new mood of pleasure seeking individualism and self assertion was in part a turning away from ever worsening political violence that culminated in 1980 with the electoral defeat of the reforming Michael Manley government. For many Jamaicans, in the face of such events, the social awareness and rasta-influenced spirituality that characterised 70s roots reggae had become difficult to sustain. In ROCKING OF THE 10,000 Badoo does more than celebrate a night out. By
name checking the "ranking", "fryers" and "sops", he refers obliquely to the ghetto command structure spawned by political violence.

HEADLINE NEWS on the much versioned I'M JUST A GUY rhythm also displays Badoo's gift for social commentary, linking the 1981 shootings of the Pope and Egypt's President Sadat to violence in the Jamaican dancehall with the refrain "and the news reads on". With "In the year 1981 Jamaica broke the diplomatic link with Cuba" DIPLOMATIC LINK has one of the more unusual opening lines in reggae. Badoo then goes on to ponder such issues as "Is Jamaica a non aligned nation?", complete with trademark early eighties exclamations of "ribbitt" over a sledgehammer rhythm. Relations with Cuba were a touchstone in the conflict between Jamaica's rival political parties which brought blood letting and murder to the streets of Kingston and during a period when most Jamaicans would answer "Me no partial" to any directly political question and virtually all references to politics in reggae were deliberately generalised, the specific subject matter of this record makes it a genuine rarity. I GOT LOVE shows Badoo's more romantic side, his Horace Andy styled vocals enthusiastically backed by The Gladiators, while I'M GONNA TELL YOU MY MIND utilises the same Bunny Lee production, complete with catchy organ hook, as Horace Andy's SOMETHING ON MY MIND.

Prince Pompidou is of an older DJ school. A contemporary of U Roy. he was big on Kingston sound systems like Kentone and Passion Hi Fi in the sixties, but committed little to record. 70 TIMES 7, recorded in December 1974, features a sleazy calypso style sax and chugging rhythm which Tubby proceeds to turn inside out on the version, putting it up against the wall and gunning it down with his phaser.

The roots feel and conscious, thoughtful lyrics of Calvin Stuart and Desmond Irie's contributions likewise place them early in the Channel One story. Calvin Stuart is represented here by the gentle, reflective BABYLON A TURN DEM BACK, while his lyrically astute ALPHABET SONG runs through the conscious roots alphabet from A to Z over a chugging, low key rhythm, with the Queen Of Sheba placed under Q and Sodom under S. The doomy, sombre roots song BABYLON YOU MUST GO DOWN, is Desmond Irie's only known vocal recording. Desmond Irie was a session drummer in the seventies who backed famous names in the Jamaican music business and was also well known as a driver who would carry the stars to and from stage shows and recording dates.

New York based DJ Jim Brown is chiefly known now for a clutch of singles recorded for Coxsone Dodd at Studio One in the early eighties, including CURE FOR THE FEVER, MINISTER FOR GANJA with Rappa Robert and KECHI SHUBI with Prince Jazzbo. DANCEHALL VIBES is a prime slice of DJ wickedness that should deservedly extend this under-recorded artist's
reputation.

The first bonus track on this double CD is Desmond Irie's DUB ONE, a conga led instrumental workout. The second has no connection to Channel One but will be of interest to all lovers of reggae. It is the 1975 recut of Larry Marshall's NANNY GOAT, an enormous sixties hit for Studio One and, some would argue, the first reggae tune ever recorded. Recorded in Toronto during Larry Marshall and Pat Kelly's 1975 tour of Canada, Leroy Sibbles of The Heptones can be heard both on organ and harmonising on vocals. Aswad Crearlie, on drums, pressed a mere thousand copies of this tune as a single for his Classic Recording Studio. Nearly 25 years later, it is here released again.
Copyright, Geoff Parker. February 1999.
Home Page
Features